Created: "April 21 2009"
Updated: Mar 17, 2016
A Very Simple design to run a Car Ignition coil. "Directly from an AC Power line".

"DO NOT ATTEMPT TO USE THIS FOR AN ELECTRIC FENCE!"
THIS CAN KILL PEOPLE AND ANIMALS!
I Designed this just as a Simple HV System.
Definately Makes a STRONG HV Arc. And May Cause Electrical Interference or DAMAGE to other electronic items that are Near It.
MOST IMPORTANT: MAKE ABSOLUTE SURE You GROUND THE COIL Case to a "GOOD EARTH GROUND".
---
NOTE:
THIS IS THE YELLOW WIRE IN MY PICTURE.
---
WARNING: FAILURE TO DO SO: WILL CAUSE THE CASE OF THE COIL TO ALSO BE ELECTRIFIED!
This Spark Can Be Very DANGEROUS, So BE CAREFUL. This Spark Can KILL PEOPLE and ANIMALS.
NOTE: You MUST have a LOAD on the High Voltage Output. With NO LOAD, you have a High Risk to "Damage the Ignition Coil".
** Either a Spark Gap or a High Resistive Load is suitable. **
I Can NOT Test the 220 VAC one, Using 50 Hz. But it Does Operate OK on 220 VAC with 60 Hz.
Lastly, If you Build this circuit, Its at your own Risk. I Will Not accept responsibility for what you do!
---
---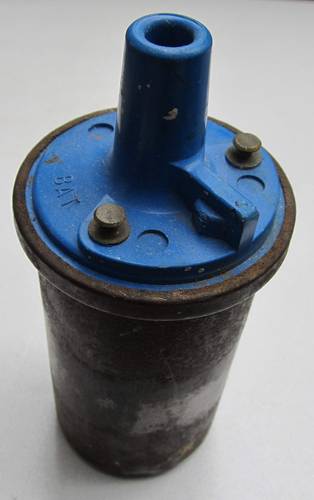 This is the OLDER Type of Car Coil that MUST be used for this Project.
---
---

The 110 VAC Schematic

"The 110 VAC Circuit Board" An Etched and drilled PCB is available.

"Picture Overlay of Parts".

"A Picture of this in operation."

The 220 VAC Schematic

"220 VAC Circuit Board" An Etched and drilled PCB is available.

"220 VAC Picture Overlay of Parts".
All Imformation in this Article is "Copyright Protected".
Chemelec *Copyright © 2009 & 2016*